Club Lifestyle
Membership Inquiry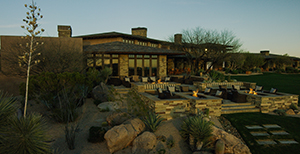 Your membership awaits….limited availability Inquire today
At the center of this exceptional North Scottsdale golf community is the glowing beauty of our spectacular Desert Lodge Clubhouse. Its Frank Lloyd Wright-inspired architecture encompasses an indoor/outdoor lifestyle where friendly, free flowing camaraderie so often turns into lifetime friendships. From lively parties, get-togethers, cooking classes, golf, tennis, and swimming events, to fitness clinics, charity fetes and more, there's always a full calendar at Mirabel.
World-Class Personalized Service
Enhancing the Mirabel Experience is the attentive, personalized service of Mirabel's full-time concierge-style Member Services staff. The service is professional, the caring is genuine. This preeminent team is happy to know you by name and help you and your family with all arrangements from a new cardio routine to dining and travel arrangements to preparations for a private party. Knowledgeable area experts, your Member Services team will keep you up to date on all current events in the Scottsdale region.
Find out more when you contact us about membership or real estate opportunities.